The fight between Jake Paul and Nate Diaz on August 5th will be streamed Live in VR thanks to DAZN, Xtadium and Meta.
July 28, 2023. This summer, DAZN is bringing the spectacle that we have all been waiting for. MMA star Nate Diaz, will make his boxing debut against social media mega star Jake Paul, at the American Airlines Center in Dallas, TX. With a capacity of more than 18,000, the venue is expected to be filled to the brim with fans, celebrities and combat sports aficionados. But not everyone that wants to go will be able to, which is why DAZN has partnered with Xtadium, the VR App by YBVR, that will stream the full fight Live in VR inside the DAZN room.
DAZN is bringing boxing fan experience to the next level by giving fans the chance to change between multiple camera angles at all times and enjoy the fight as if they were ringside without leaving their sofa. Adding to the already great experience, the viewers will be able to create watch parties to enjoy the fight with friends all across the country.
"This is a huge step for us" said Jared Kass VP North America, DAZN. "DAZN are consistently looking into cutting edge tech to bring fans even closer to the action-and it doesn't get more cutting edge than this! We are huge fans of VR and the possibilities it brings to the consumer and I cannot wait to tune in August 5th for this incredible experience."
Here are the steps to access the fight in VR: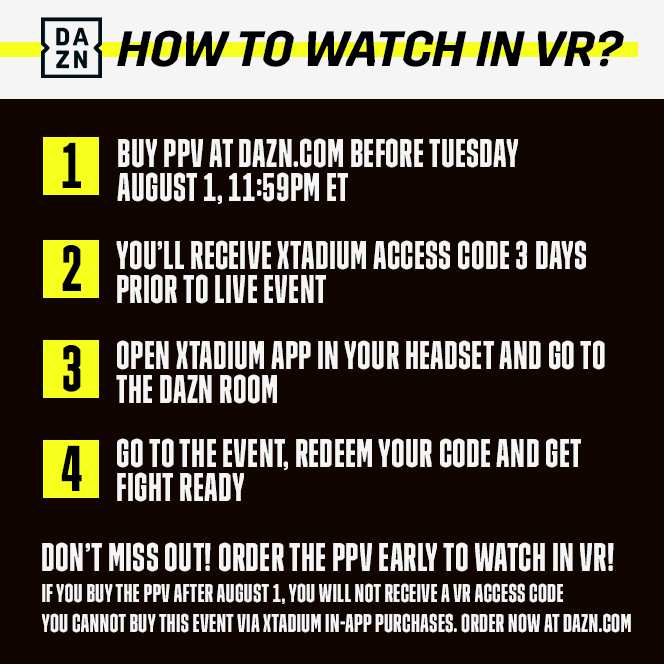 This is the first time, a boxing fight of this kind will be streamed in fully immersive VR with 360° and 180° views. It will be available on XTADIUM, a free VR App developed by the VR company, YBVR,  that is available on all Meta Quest Headsets. XTADIUM is available in the US Only.
"At YBVR we are working to build the home of sports in VR with our app Xtadium. This exciting partnership with DAZN will bring fans next generation immersive content through a Virtual Ticket" said Sebastian Amengual, CTO and Co-Founder of YBVR. "Join us in Xtadium from home with your Meta Quest VR Headsets, to sit ringside at the boxing fight of the year. Users can also Invite their friends to a Watch Party to enjoy the fun with them".
Purchase PPV, get your code, download Xtadium and sit ringside! You won't want to miss any of the action from the most anticipated fight of the year. Feel closer than ever to the action, choose your preferred corner and cheer for your favorite fighter to win. Will the influencer and boxing star win? Or is the former mixed martial artist winning on his debut? Put your headset on and find out!
About dazn group
DAZN is a leading sports streaming service in Italy, Spain, Germany, Belgium, Portugal, Japan, Taiwan, Canada, the US and UK.  Its wide range of content includes top-flight football from the world's most popular competitions – Bundesliga, English Premier League, J.League, LaLiga, Serie A, and the UEFA Champions League, in addition to the biggest sports from around the world – Formula 1, NFL, NBA, MotoGP and the UFC.   DAZN is the only place for fans around the world to watch every NFL match outside North America. 
DAZN is building the ultimate sports entertainment business where fans from across the globe can watch, read, bet, play, share, socialise, buy tickets and merchandise, all in one place, with one account, one wallet and on one app.   
For more information on DAZN, our products, people, and performance, visit dazngroup.com.  
About YBVR
Yerba Buena VR (YBVR) is the world leader in sports in VR, a Silicon Valley-based technology company whose main purpose is to bring emotions closer to sports fans by providing a unique experience that transports them to their favorite sporting events without leaving their homes. YBVR is a one-stop-shop that has been six years in the market for building the next generation of live immersive video experiences in VR/360, unleashing the potential of immersive broadcasting by providing unparallel immersive experiences to sports fans connected from anywhere with any device: mobile, web, TV, and, of course, XR devices.
For more information on YBVR, visit ybvr.com