Sitting in the front row of the Žalgirio Arena without leaving your sofa is now possible thanks to EuroLeague TV VR. An App that brings the best European basketball with unique views that allows fans to choose between multiple camera angles and switch from 360 and 180 cameras to 2D feeds seamlessly.
The 2023 Turkish Airlines EuroLeague Final Four takes place this weekend in Lithuania, and fans from multiple countries around the world will be able to live the EuroLeague Basketball Final Four in a different, innovative way, thanks to the partnership between EuroLeague Basketball and YBVR.
YBVR and Turkish Airlines EuroLeague worked together for the first time in 2021 when the Final Four was in Cologne and no fans could attend due to post-pandemic restrictions. In that moment, the concept of Virtual Ticket was introduced, allowing fans to attend without leaving home and giving them an immersive experience that could make them feel the action as if they were there. The Virtual Ticket concept was also important for both companies because it represented a new revenue stream that didn't exist before.
After Cologne, both companies agreed on producing the Final Four in Belgrade in VR as well, adding the Virtual Reality features to the Final Four subscription to EuroLeague TV.
Two Final Fours later, in 2023, YBVR and EuroLeague Basketball extended their partnership and, apart from the Final Four, 6 games of the regular season plus 4 more of the playoffs were streamed Live in VR for multiple devices and in multiple countries around the world.
"It happened with radio, then with TV, with OTT and it will happen with VR," said Hector Prieto (Co-Founder and CEO at YBVR). "It takes some time for technologies to reach their maturity state, but VR has now reached that turning point. We are seeing many big sport media players positioning themselves around the business potential of immersive live sports experience. Early adopters are those that will have a greater success."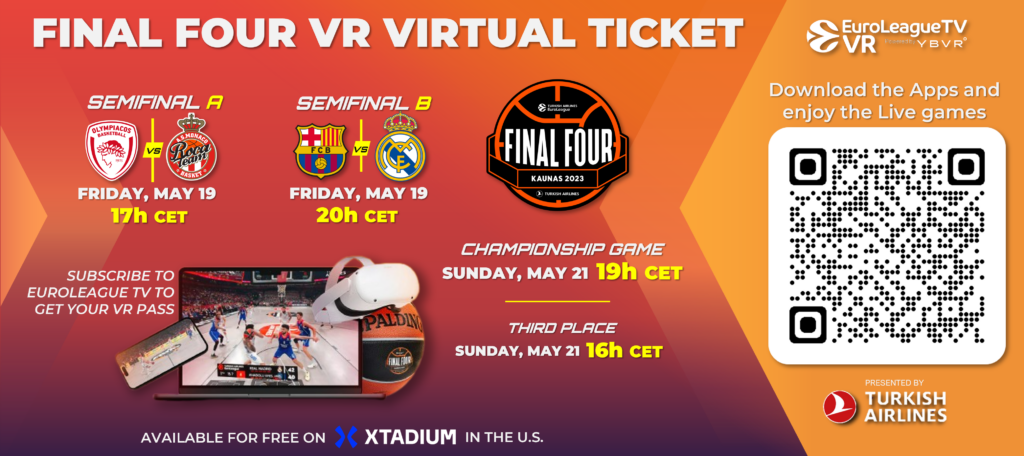 This year's Final Four won't be the exception, the crew is ready, the immersive cameras are placed and the Apps are published. Fans can download the Apps using this link and get their codes by subscribing to EuroLeague TV.
For fans in the U.S., the Live games will be available for free on Xtadium.
And last but not least, for all of those attending to the F4, there will be a VR stand on the Fan Zone where people will be able to try the technology and get immersed in highlights from previous games, making them feel as if they were courtside.